What is copy? In an article of copywriting examples, the description could not be missing. Copywriting is a writing technique that seeks to connect with the desires and emotions of the target audience. To do this, resources such as news associated with the brand, affirmations, advice, stimulation and determination of emotions are used. As well as the selection of prospects that allow us to easily identify the brand so that potential buyers can connect through a simple text.
Obviously, to generate a copywriting, it is necessary to have persuasive capacity and a lot, but a lot, creativity. For this reason, here we leave you 20 examples of copywriting so you can be inspired to generate your own creative copy.
The importance of the headline
If the title is not powerful or convincing enough, the potential buyer will not feel inspired, much less be clear about the product or service being offered. For this reason, focusing on the headline is one of the main aspects of copy design.
A clear example of this is the copy of Fizzle, an American company for startups, which indicates: "Earn a living independently doing something that matters to you" This is a common sentiment among entrepreneurs, so, without a doubt, it is a sentence that connects.
The introduction
In this example of copywriting we see the importance of the introduction. In this we let the consumer know what the product or service we offer is about. It is a simple but very complete sentence. As evidenced in the Dropbox intro example: "Keep all your files organized without interrupting your workflow."
Word Games
A creative option that could not be missing from this list of ideas and examples of copywriting is to play word games. These can be with representative phrases for the brand, a known product or even the name of the company. A clear example of this is the company FedEx, which, although it does not use its name in the pun, uses that of the competition UPS, with the homophone 'oops': "The only word we don't have in the dictionary is ' oops'".
Irony
We all love a touch of irony, and there are brands that really know how to take advantage of this resource in their copy. The perfect copy example in this case is Yoigo, with phrases like: "We understand that the competition does not call us to congratulate us. It is very expensive for them."
Product specifications
In this case, it is about showing all the characteristics of the product, just as if the purchase is made face to face, answering all the possible questions that the client presents.
Of course, presenting it in a creative and original way is not the same as showing only a list of features without much interest. As an example of copy, don't you want to buy this red lipstick?
Conviction
Socially, we need to gain validation in order to feel content. For this reason, brands use this resource to demonstrate something to their buyers. Such as Witerfield, an artisan handbag manufacturer whose slogan is: "Made in San Francisco."
Big offers
Deals are always a good way to attract buyers. For this reason, showing a good promotion in the copy is one of the most used 2021 copywriting strategies.
Of course, there are ways and ways to offer deals. As an example of original copywriting we have this one in which the brand offers discounts based on the ambient temperature, matching its discount percentage to the degrees that it makes at the time of purchase. An original copy, right?
Call to action
It is a way of attracting the attention of the consumer so that he executes a certain action, which is usually used so that the user in his navigation clicks on the site where he wants. A clear example of this is the registration buttons.
Take a look at this example of creative and original copywriting. Spotify first uses a phrase with which it summarizes the objective it has with the copy in question «Go premium». Then write the word "smile" so that you relate making yourself premium with this verb and happiness. Finally, we find the button that will take us to the "start free trial" action. A master copywriting move.
Your Order
Sometimes the text can be a bit long, losing the most relevant idea and the focus we wanted to focus on. In these cases, it is important to make a summary that attracts attention where the offer that is shown is specified. For this reason, the most relevant elements are usually included graphically.
As an example of summary copywriting, we could find the first sentence that we see when we enter the Ikea website. With a single sentence the company has summarized its activity and what it offers to the public.
Rank
Hierarchy helps us clarify ideas and express them with higher quality. Establishing a hierarchy in our copy doesn't exactly seem like a very creative or original activity, but believe me it is. Creating an index in a blog article, organizing a restaurant menu correctly or prioritizing a website menu are examples of copywriting that work.
An example of hierarchical copy are pages such as Selfpackaging, where the information is structured in interactive menus that order the data so that the user can access it with greater order and ease.
create stories
We have already commented that generating sensations and emotions is of great importance. For this reason, a well-told story has the ability to significantly attract potential buyers.
Tell the story of your company or one of your products in an original way. Create a protagonist that captivates and tells something with which the reader feels identified. Assured success!
Emotions
Understanding emotions and experiences is one of the best resources for creating copy, especially when it comes to brands with great sentimental value, such as those that offer baby products. An example of this is Nonabox, which connects with mothers through experience.
sensory adjectives
Adjectives are one of the biggest problems or challenges that can arise when designing copy. For this reason, it is important to select sensory adjectives that can account for the experience lived by the buyer. This resource is usually used for sales of food, perfumes, among others.
A trick that works very well when it comes to not being too obvious with the copy, is to replace the feeling that we want to describe with an image. Human beings are visual animals. As an example of copywriting we can see this graph of a Iberian brand that uses the visual resource to complement the text.
Medals
A confusing text is not pleasant for anyone. For this reason, we must pay attention to the order of ideas when writing a copy, with concise ideas and adequate expression to convey information more easily.
Multimedia content
There are some brands that use other resources such as multimedia content, with which the content of the copy can be complemented. Such is the case of Keep up, a cup brand, which includes additional and visual content in its copy to show the product.
Homepage
The copywriting on the homepage must be a creative copy that seeks to publicize the main characteristics of the company or brand. For this, it is common to use resources such as experience, benefits, calls for attention and, of course, an original design capable of persuading the user to be even more interested.
As an example of original copywriting on the homepage, we leave you this one from Burger King. A colorful and direct design that perfectly meets the company's marketing objectives.
fashion phrases
Demonstrating that we know the fashionable phrase indicates that we are a trend. This is an ideal resource to connect with the viewer. However, before using this resource, we must make sure that the public really knows and identifies the phrase.
A very clear example of this is the popular phrase «In my life, hulio». This phrase was said by Joaquín Reyes, Betis player, in a television interview. The interviewer asked the soccer player about any other sport that he practiced besides soccer. Joaquín responded seriously "tennis", to which a friend who was with him reacted with uncontrollable laughter. Then he said between laughs «I have not picked up a racket in my life, Julio». The phrase went viral and many brands took advantage of it for their advertising campaigns and their copy. Finally, Joaquín himself ended up launching a clothing brand called Hulio.
Design
Whoever designs the copy must be involved in the marketing process, since it must be thought of as a whole so that the elements make sense and that the information is consistent.
Mailchimp could not be missing from this list of copywriting examples. The king of design. On their website they have such a consolidated and balanced image that the value of the copy is multiplied.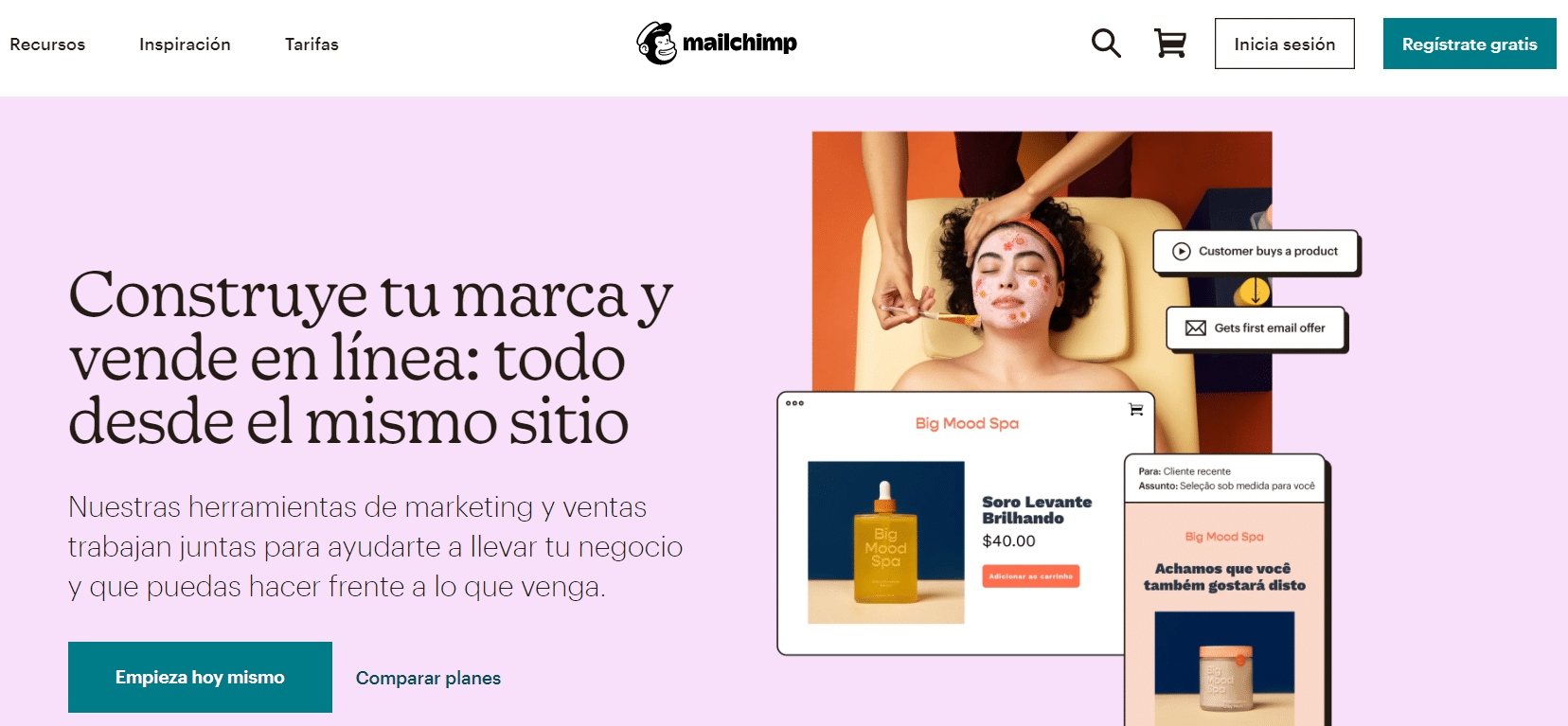 reverse the sentence
This is a resource in which the sense of the sentence is inverted to generate an idea that attracts the attention of the potential buyer.
As an example of this copywriting strategy, we could put the case of the slogan with which Madrid Central was presented: "If you haven't been to Madrid for a while, you haven't been to Madrid for a long time".
comparisons
Some people may find comparisons a bit off-putting. However, there are ways to do it, with a subtle touch that generates a really attractive copy. The problem of comparisons usually arises when we compare ourselves with another brand or group, and perhaps it is something that we should avoid if we do not want controversy.
A good example of comparative copy is the Pullmantur campaign: "Jumping over puddles is unbeatable. But I wish it was summer. This winter your Caribbean cruise…"