Brand architecture is the way to organize and present the different brands of a company to the market. As companies grow, brand management becomes more complex. New companies, new services, new products...
There comes a time when you need to stop and make a strategic consulting to keep growing. That's why, from the Uzink blog, specialized in brand consulting, we want to share the 3 most common types of brand architecture with some visual examples to help us understand its advantages and disadvantages.
What is brand architecture?
Brand architecture is the structure of a company towards the market. It is the hierarchy, the roles and the way of relating between the brands of one or a group of related companies.
Brand architecture is therefore a strategic and creative tool with great distinctiveness and capacity to generate value. In this way, the different audiences can better understand and differentiate the offer and the organization itself optimizes its communication processes and actions.
To understand why companies develop a brand architecture and how it makes them improve their position in the market in such a way, it is necessary to understand that organizations grow in a disorderly manner over time. This weakens the organization and the image they end up transmitting is chaotic and disorderly. Properly managing the brand architecture changes this situation until it becomes a fundamental and useful tool for the different brands.
Brand architecture determines how your customers will perceive your company: whether they will see your products and services as a cohesive group or as a jumble of different offerings. Basically, brand architecture is the layout and relationship between various brands.
It is a key business decision that determines how your company will position itself in the market. The brand architecture strategy will depend on a number of factors, such as company goals, target markets, and resources. It is essential to understand the nature of your business and the market in which it operates before choosing a brand architecture.
Because it is important?
Brand architecture is responsible for clearly communicating the brand identity of a company. It is the structure behind the brand and serves as a guide to help customers understand your company as a whole. Your brand architecture can make or break your company identity.
If you don't have a brand architecture, your customers will have a hard time understanding it. Your brand architecture is what gives coherence to your company and makes your company unique. A good brand architecture can help you make a positive first impression on potential customers while generating an understandable and assimilable message for each of them.
It can also help boost your brand engagement and improve your sales. In the end, a brand architecture will create a consistent brand message. It will also allow you to build strong relationships with your customers.
Benefits of having a correct brand architecture
Clarity in internal decision making.
It helps control the brand image that the public has of our brands.
It optimizes the hierarchy within the company and establishes an internal model that orders the organization based on market and marketing criteria.
Say hello to optimizations and innovations that we hadn't even thought of before. Mergers, acquisitions… we clearly see the advantages of all these new ways of presenting a brand to the public.
Generates business competitiveness. We are more competitive because we are clearer, more sincere and more efficient in facing the challenges of the market.
With a brand architecture we can better face the specific communication problems and objectives of each brand and we have the possibility of expanding the audience we address in a conscious and programmed way.
Optimization of resources and processes. By determining the hierarchy well, it is much easier to review the bureaucracy of our company and reduce costs and time.
Define the brand ecosystem
One of the first steps in creating a brand architecture is to identify the ecosystem of your brands. Your ecosystem refers to the set of brands, products and services that make up your company. It also includes stakeholders and investors. If you don't have a brand ecosystem, you don't have a brand architecture. The best way to start creating a brand architecture is to map out your ecosystem. You can do this by answering three questions:
Who are your customers?
Who are your product/service providers?
Who are your investors?
After answering these three questions, you will be able to identify your brand ecosystem. With your brand ecosystem in mind, you will be able to create a brand architecture that is coherent, consistent and comprehensive.
Types of brand architecture: monolithic, endorsement and multi-brand.
We present the 3 standardized brand architecture systems. From here we find hybrids or even corporations, such as Nestlé or Disney, which house practically all types.
Monolithic brand architecture
A monolithic (or mono-brand) architecture is a brand architecture that focuses on one core brand. With this type of brand architecture, your entire business will be centered around a single brand. A monolithic architecture is best suited for companies that are new to branding or have a small budget. It is also beneficial for companies that have only one product or service.
With a single-brand architecture, you can focus all your efforts on a single product or service. You can also direct your marketing and branding efforts to your entire customer base. A monolithic architecture is also easy to implement. For example, Acciona.
Advantages:

We manage to optimize investment in image by concentrating all efforts on a solid brand.
Access to the entire client portfolio of the company, regardless of the line of business.
Disadvantages:

It presents problems in defining differential positioning and risks in the face of a domino effect of reputation.
Endorsed brand architecture
We speak of endorsed (or endorsed) brand architecture when the main brand is present in all divisions and products, but allowing the development of the personality of each of them. In this case, the independence of each brand allows the company to be well oriented to its market segment, keeping a call to the main brand.
At Uzink we recommend this architecture when the main brand brings clear added value to an independent brand. A clear example of a brand endorsement is Meliá.
Advantage:
It generates group credibility but offers greater flexibility when creating your own communication code.
Disadvantage:
In crisis situations in a business unit, we would also face a risk of contagion. On the other hand, we could find limitations when the company develops very diverse activities.
Multi-brand architecture
We apply a multi-brand architecture when each of the brands has a target audience and a clearly differentiated value proposition. When choosing a multi-brand architecture, it is important to select brands that complement each other rather than directly compete. Creating a multi-brand architecture is an expensive and complex process. You must start planning it from development. of the first brand.
An example of multi-brand architecture, created by different brands for different audiences and with independent value propositions, is Inditex.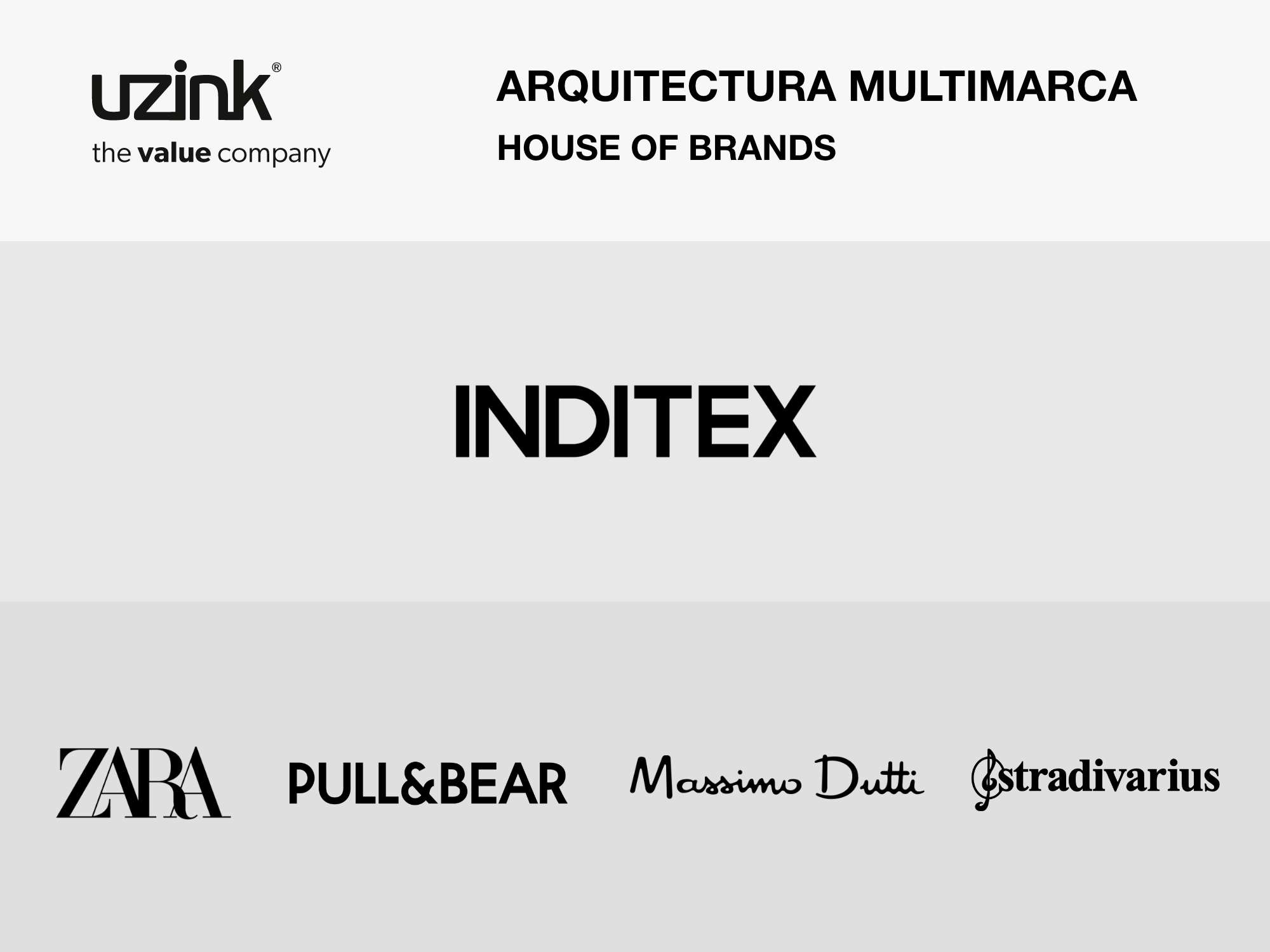 Advantage:
It offers total flexibility when defining independent strategies.
Disadvantage:
It requires greater communication efforts as it does not generate synergies.
What brand architecture favors your company?
There is no single answer. Each architecture model must be the result of a previous consultancy analyzing the company, its activity, the market, future projections, short- and medium-term objectives... However, We find clear trends:
The monolithic or endorsement model usually favors companies linked to the industry or whose operations are carried out in very specific sectors.
The multi-brand model usually benefits companies with products aimed at the final consumer and that require their own marketing strategy.
In any case, define a correct brand architecture It brings many advantages beyond the image:
Reduce costs and optimize investment.
It establishes the bases for the growth of the corporation.
Facilitates the development and implementation of corporate and business unit marketing strategies.